Review: Daw Nusk - Hunter Gatherer (Koppklys, 2012)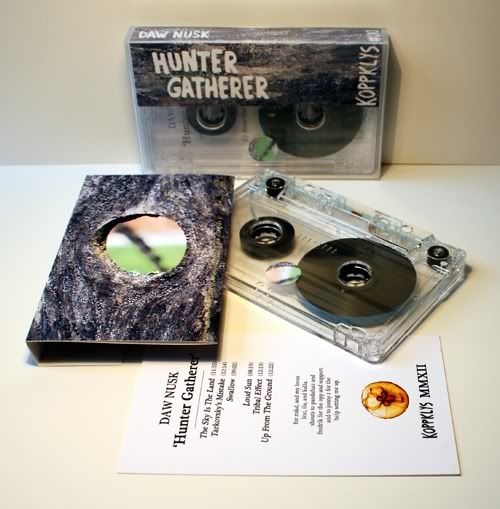 Norwegian micro-label Koppklys developed a unique artistic direction, combining beautiful artworks with informative and neat inlay cards. The clear cassette reveals an impressive spool of magnetic tape inside - there's almost 70 minutes of music in here, provided in a series of somewhat disorienting ambientalistic explorations. Like the cover photo, revealing a bright, yet extremely blurry background seen through a hole in an old, heavily textured plank, Daw Nusk's (real name: Todd Klempner) moments of beauty are buried deep within rumbling drones, distant ringing and spliced field recordings.
The music on Hunter Gatherer is undeniably cinematic, and this feeling is further augumented by the label and the track names themselves: the blurb on Koppklys' website describes the album as "an alternative soundtrack to Terence Malick's The Tree of Life" and one of the tracks is entitled "Tarkovsky's Mistake", possibly with a reference to a certain Andrey. The cassette is the kind of ambience that blurs the line between "real" and "artificial" instruments, there is no point in telling whether the nearly Easter Orthodox-style vocal moans are real or they're just synthesizer lines or whether the heartfelt string lines are made with actual violins or they're just a product of electronic hardware. Because it's not what it is about: it is about creating heavily textural, contemplative mood, switching locations between a beach on a cool, cloudy day to the deep woods or a nostalgic playground of the old days. Daw Nusk's music may be difficult to penetrate at first, but a few flips of cassette later the subsequent layers of beauty begin to emerge. Patience is the word.